The boys on the HBO hit series; Entourage never fails to wow their fans. Entourage TV series high on drama and action also comes packed with a large dose of style and spunk. Whether you are looking at the poster, trailer or an episode, it is hard to miss the sunglasses that Vince and his boys Eric, Turtle, Drama and Ari sport. The question is what sunglasses do they wear in Entourage?
These shades or sunglasses are not just some of the coolest styles, but they also feature the most iconic names in the world of sunglasses makers. Let's take a look at the various characters and what sunglasses they are wearing through the entire Entourage series.
1. Vincent Chase (Adrian Grenier)
Let us start with the very glamorous Vince. The Oliver Peoples sunglasses that he sports in this series is a clear winner. A predominantly wayfarer variant, it is drop down gorgeous, chic and rather cool. The tortoise color just adds to the subtle charm and stylish appeal.
Oliver Peoples is one of the distinctive and most appealing sunglasses brands. Superior craftsmanship and quality designing make it one of the most sought-after brands globally. Their designer range is distinctively attractive and wins instant admirers. When you are looking for what sunglasses do they wear in Entourage, this is one of the most searched names.
See on Amazon:
Oliver Peoples Eyewear Men's NDG Polarized Sunglasses, Cedar Tortoise/G-15 Polar VFX, One Size
2. E (Kevin Connolly)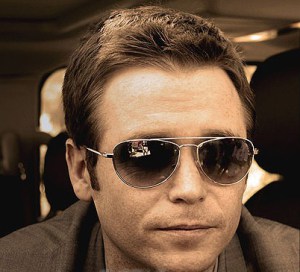 Eric or E is undeniably one of the most recognized characters in the TV series. He surely rocks the screen with his trademark aviator sunglasses from Mosely Tribes. This is not just a pair that makes Eric look dashing onscreen, off-0screen too; he is seen sporting these aviator variants.
E's most favorite and popular sunglasses from Mosley Tribes is an aviator with polarized lenses and silver frames. The same style is also popular in golden frames with polarized lenses or even photochromic lenses. This almost retro aviator is part of the Unisex line from Mosley Tribes. So both men and women can look at wearing these classy offerings. You cannot miss this one when you are searching for what sunglasses do they wear in Entourage?
This is perhaps one of the best features of the Mosley Tribes sunglasses. They practically look good on anyone who wears them. Men, women with almost any type of facial shape that you may have. They also have some offerings in the rose gold frame in similar styles. You can easily adapt these with pink quartz color lenses for your dose of retro chic.
However, it is interesting that the retro-aviator that E sports is especially handcrafted and comes with some unique features. These particular sunglasses have an air tech nose pad. This means that fit is never a problem with these Mosley Tribes sunglasses. The high tech lenses beautifully complement modern urban challenges.
Most of the pairs that E sports have signature VFX lenses. These are particularly popular for highlighting contrast colors. They are also anti-glare variants with special features to protect the eyes from UV rays.  Additionally, these sunglasses also come equipped with a special non-reflective coating. As a result, they improve the clarity of vision to a large extent. So people who wear these also suffer much lesser from eye fatigue or similar strain on the eyes. 'E's role came as a special boon for the brand. In fact, it came into the spotlight only as a result of E's blind addiction to the brand. Several other known celebrities too have patronized this sunglasses brand across Hollywood for its definitive style.
3. Turtle (Jerry Ferrara)
Any discussion about what sunglasses do they wear in Entourage is incomplete without discussing Turtle's sunglasses. While it is not very clear in the first look about the brand he is sporting, most reports indicate Jack Spade Sawyer sunglasses.
The square frame with rather sharp edges sits really pretty on Turtle's face. The unique lens color adds to the intensity of the role that he plays in the film.  These designer sunglasses with the range of offerings surely add the oomph factor to your wardrobe. The trademark square rims add a classy and trendy appeal to the entire get up.
See on Amazon:
Jack Spade Men's Sawyes Rectangular Sunglasses,Black,55 mm
4. Drama (Kevin Dillon)
Entourage will never be as interesting without Drama and the dramatic Ray-Ban aviators it sports. One look and you will be convinced that nothing else can be a better fit for Drama or Kevin Dillion. Not just on screen, Kevin wears these signature aviators off-screen as well. The Classic Ray-Ban sunglasses create a compelling picture of style, glamour and subtle poise. That is hard to miss in almost any frame in the TV series, Entourage.
See on Amazon:
Ray-Ban Sunglasses – RB8313 Carbon Fibre / Frame: Gunmetal Lens: Polarized Grey (61mm)
Conclusion
What sunglasses do they wear in Entourage is undeniably a very important concern for fans. It is one of the most important accessories used by the male cast in the TV series. It is needless to mention that they add a classy and chic quotient to the overall styling of the characters in this series.